Spintronix World member Wallace tossing a rifle at the state championship performance.
Spintronix World Color Guard took first place at the MCCGA state championship this past weekend. "It has been a very long and difficult season for these performers, but they are the hardest working group of individuals we've ever had together in our 12-year competitive history," says Jackie Brown, director of the Spintronix non-profit organization. The team is heading to Dayton, Ohio this week to compete in their first-ever world championship.
Spintronix World with their gold medals.
Back row (L to R): Victor Brown and Director Jackie Brown of Mountain View, Adam Hajeh of Willow Springs, Samantha Huffman of West Plains, Sydney Forck of Ashland, Cheyenne Robison of West Plains.
Front row (L to R): Stephanie Watson and Shandon Gross of West Plains, Sam Wallace of Columbia, and Megan Uminn of West Plains.
The Spintronix-A team, the organization's training guard with two previous state championship titles to their name, finished their season in ninth place in the regional class. "I am so proud of the performers on the A-team this year because it was the smallest group it's ever been between COVID happening and the creation of the world team," explains Brown. "The goal with a training team is generally to continually improve throughout the season and their score increased significantly with every competition so I'm very proud!"
Advertisement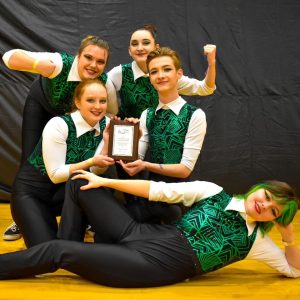 Spintronix-A after their state championships run.
Back row: Natalia Warnock of Gassville, AR and Jasmine Sabillon of Seymour
Middle row: Lola Combe of Paris, France and Cade Atchley of Salem
Front: Shay Moss of West Plains
Anyone interested in learning more about the Spintronix organization can visit their website www.spintronixguard.org or follow them on social media @spintronixguard. They will be holding their annual summer camp at Central Methodist University this July in Fayette, MO and will begin recruiting and training new members to join their 2023 competition teams this fall.
Previous articleOne-Vehicle Accident Involving Hay Bale Leads to 1 Injured Adult, 2 Injured MinorsNext articleRobert Lee Judd

Source